Angle of Engagement (AOE) of the sector gear with the piston toothing
The Angle of Engagement is an angle at which the first tooth of the piston toothing comes into contact with the toothing of the sector gear. If the AOE is incorrectly adjusted, the piston guiding rails and the first piston tooth are subjected to increased wear.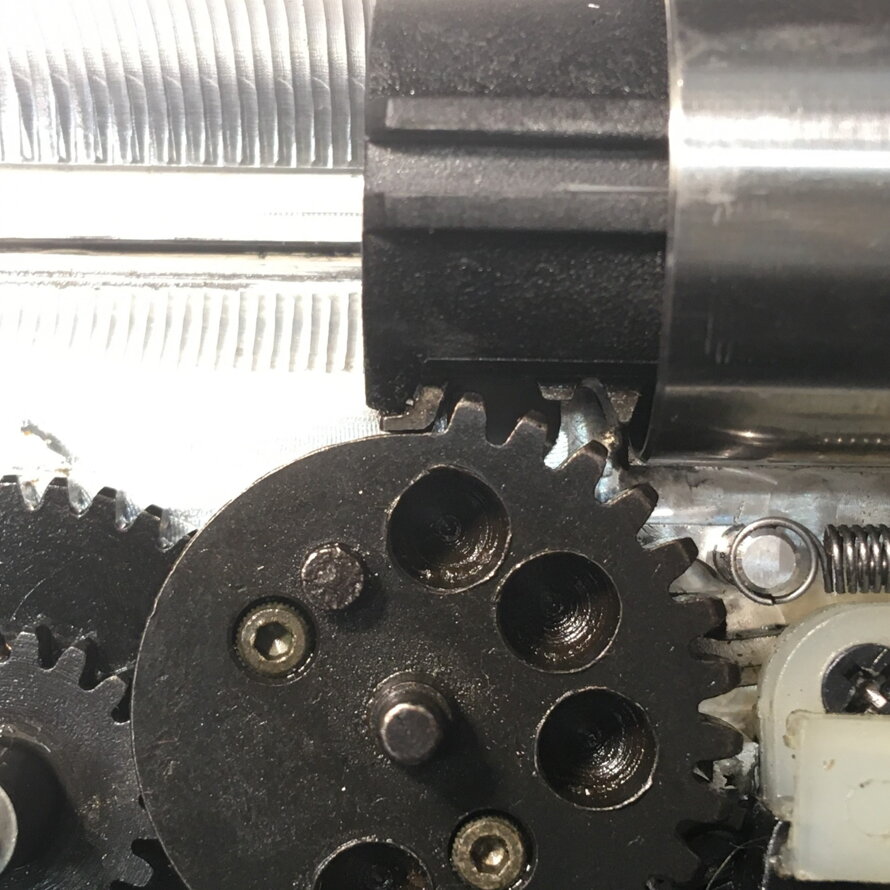 In pistons with metal toothing, this can lead to complete breakaway of the tooth. The correct AOE adjustment significantly increases the lifetime of a piston. There are two ways to perform AOE adjustment – by placing a washer under the piston head, or by using a thicker impact rubber pad on the cylinder head. Both methods move the piston towards the spring guide, lowering the teeth AOE.
In general, using the thicker impact rubber pad is the better solution. With a thicker pad, the impact of the piston head is more damped and there's no increase of the piston's weight, which would otherwise lead to increased wear of the gearbox.
That's why we offer impact rubber pads in 4 different thicknesses, which can be easily installed onto the cylinder head without any specialized tools. For the easiest installation, you can also buy a cylinder head without a pre-installed impact rubber pad. The pads can be made from standard Polyurethane (PU) or you can use the so-called Sorbopads made from special material called Sorbothane®, which was developed with focus on good impact and vibration absorption. This material is used in the aerospace industry for impact damping when launching very sensitive payloads into space.
If thicker impact rubber pads are not available for the specific cylinder head, it is also possible to use another solution, in which washers are placed under the piston head. However, this increases the total weight of the piston, thus subjecting the gearbox to increased wear. A good practise is to avoid washers made from heavier materials like steel and use lighter materials like duralumin or strong plastic instead.
On the other hand, if a heavier piston is needed (e.g. for DMR builds - higher power and higher BB weight), this is the easiest way to adjust the weight. That is why we also offer special heavier brass washers.