Duralumin piston head with H+PTFE surface finish that can be used for the strongest springs
The piston head is fitted with two quality O-rings (one guiding and one sealing)
11 counter-pressure holes with proportional geometry for perfect tightness within the piston
A ball bearing for problem-free spring operation
The weight of the piston head is only 6 g, the weight of the complete assembly with the bearing, flange and bolt is 11.4 g
Made from EN AW 7075 T6 aircraft-grade duralumin alloy, with O-rings made from NBR 70 sh rubber
Made in the Czech Republic
Package contents
1 piston head with fitted guiding and sealing O-rings (16×1 and 19×2.5)
Additional guiding and sealing O-rings for pistons with wider inner diameter (18×1 and 19×2.65)
1 axial bearing
1 bearing flange for the piston head mounting bolt
3 high strength bolts of different lengths for potential use of the AOE spacer pads (M3×12 and M3×16 with Torx head, and M3×14 with Phillips head)
Advanced geometry of the counter-pressure system
The piston head uses the so-called counter-pressure design – an established contemporary standard. Regardless of that, we were able to push the proven design a little bit further.
The EPeS piston head features 11 air intake holes for the sealing O-ring. The placement of these holes has been selected to maximize the flat surface in contact with the piston head's impact rubber pad, while keeping excellent compression attributes. The larger the functional area of the impact rubber pad, the more effectively the impacts are absorbed. This results in quieter operation of the gun and also increases the pad's longevity.
The edges of the EPeS piston head intake holes are rounded to an ideal aerodynamic shape for efficient air intake towards the sealing O-ring and for the disruption of sharp transition between the flat piston head's front side and the hole's inner cylindrical surface. This sharp corner transition is, in most cases, the reason for rubber pad damage.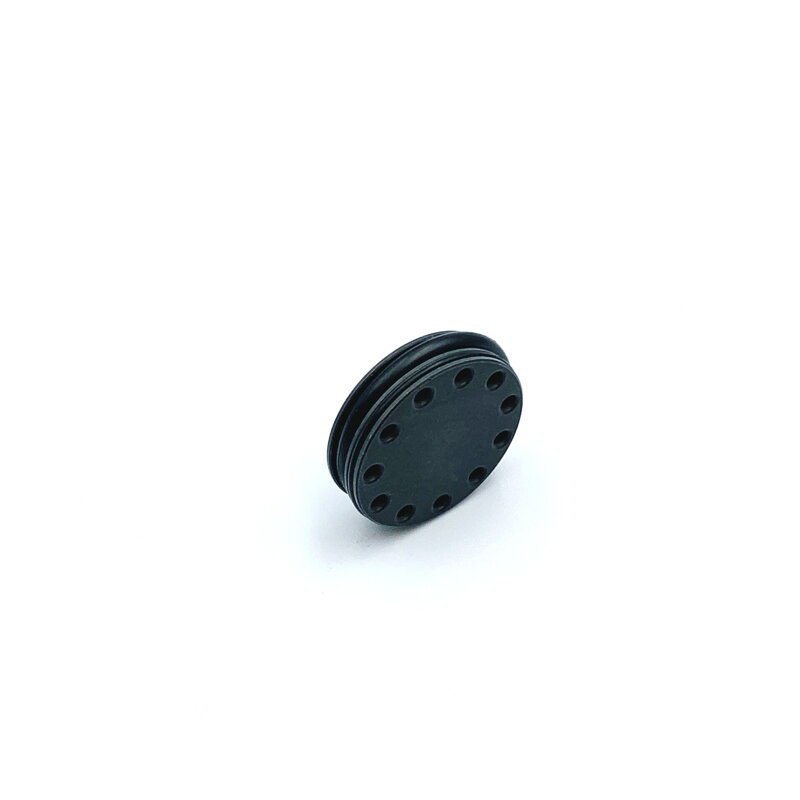 Piston head AEG Duralumin H+PTFE